Trinity Set Drum Meditations:
Audio Tracks:
Root, Heart, and Chakra Meditation Drones:
The chakra meditation drone tracks use Solfeggio pure tones embedded into two voice drones harmonically attuned to the Solfeggio frequency.
Shamanic Communion:
Video Meditations:
Baltimore Drum Church presents the new Trinity Set Drum Meditations recorded live at Mushroom City Art Festival.
963 Hz Crown Chakra Meditation with Crystal Singing Bowl
639Hz Heart Chakra Drum Meditation with Crystal Singing Bowl:
396Hz Root Chakra Drum Meditation with Crystal Singing Bowl:
---
Trinity Set Proof of Concept Videos:
NOW MOMENTS – Three Minute Journey:
Produced in coordination with Daveed Korup for Baltimore Drum Church.
https://www.facebook.com/baltimoredrumchurch/videos/1854642111495133/
Solfeggio Pure Tone Frequencies: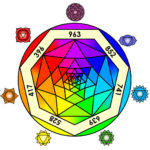 Ancient Solfeggio meditation pure tones in attunement with your seven chakra points. Each track is 15 minutes long and are free to use for meditation and chakra attunement, enjoy.
Multimedia Collaborations:
Eric Willison's multimedia collaborations with Baltimore Drum Church and spiritual leaders and gurus. Feel free to review and share these collaborations on social media. Furthermore, if you want to collaborate on a project with Charm City Shaman, just contact us though the information provided in the footer.
Collaboration: Baltimore Drum Church three minute shamanic journeying meditation video. Studio recordings with Daveed Korup.
https://www.facebook.com/baltimoredrumchurch/videos/1854642111495133/
Collaboration: Quantum Activation Video Series with Nichole Kelly:
Here's a video project I (Eric Willison) produced with healer/guru Nichole Kelly. I shot and edited the video recordings in my home studio and made the soundtrack used for this video. The audio track on the first video was created me and Daveed Korup. This chakra based Meditainment video series uses Infinity's quantum energy manipulation along with light and sound frequency attunement elements recently incorporated into Baltimore Drum Church gatherings. Visit Infinity at: http://quantumenergybyinfinity.com
First video in the series:
https://www.facebook.com/QuantumEnergybyInfinity/videos/1304212973055478/
Second Video in the Series:
https://www.facebook.com/QuantumEnergybyInfinity/videos/1312625105547598/